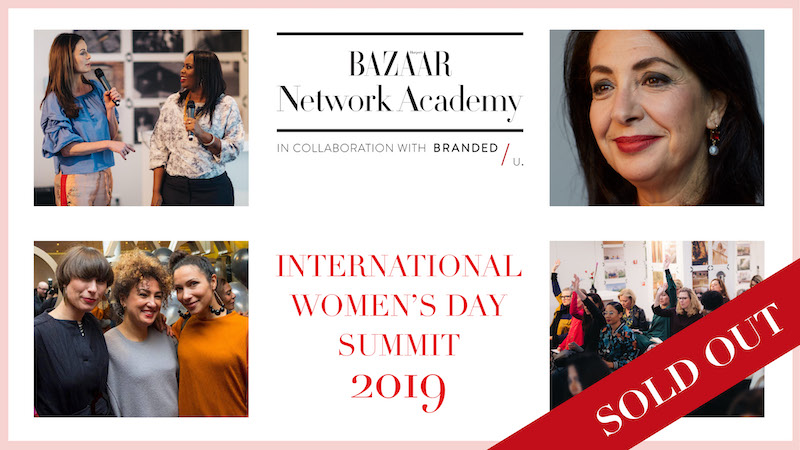 Are you ready to learn from top women from The Netherlands and abroad who make a difference in their field? About topics such as personal branding, female leadership, core qualities, fearless ambition and making yourself visible?
Join us at the International Women's Day Summit in Amsterdam on Wednesday the 6th of March. An exciting, inspiring day full of interviews, talks, panel discussions and meetings, organized by Harper's Bazaar Network Academy in collaboration with BrandedU.
Host: Nancy Poleon, founder BrandedU and Miluska van 't Lam, chief editor Harper's Bazaar
Language: English
With presentations and talks of, among others:
Anika de Groot – Director Fundraising & Communications Dance4Life
Annelies Valk – Senior Global Brand Strategy Manager Vodafone
Dr. Yvonne Thompson CBE – Entrepreneur and author
Elske Doets – MD and Owner Jan Doets America Tours
Enny van de Velden – Chair of the board of Directors and CCO CCV Group B.V.
Eva Hukshorn – Strategy Advisor Re-Born
Hajir Hajji – Commercial Director Action
Heena Jethwa – Digital Workplace Services Leader IBM
Hendrikje Crebolder – Director Development & Media Rijksmuseum
Jackie Reardon – Author, entrepreneur, speaker and life coach
Jane Turner – Head of the Rijksprentenkabinet Rijksmuseum
Khadija Arib – President House of Representatives
Laura Visco – Executive Creative Director 72andSunny
Where: from 12:30 – 18.30 hrs in De Hallen Studio's, Amsterdam
Would you like more information? harpersbazaar.nl/network
.

.
Program 6th March 2019
12.30
Walk in
13.00
Introduction Miluska van t Lam and Nancy Poleon
13.10
Jackie Reardon mini-masterclass
Why developing mental strength leads to better results and increases your visibility at work
13.55
Interview Dr Yvonne Thompson CBE
The truth about why networking is the most essential career tool
14.10
Interview Enny van de Velden
Make your unique qualities visible
14.30
Interview Eva Hukshorn and Elske Doets
The importance of aligning your career with your core values
14.50
Break
15.35
Panel discussion Heena Jethwa, Annelies Valk and Laura Visco
Fearless ambition, building a career abroad
16.20
Talk Anika de Groot
Where women run the world
16.30
Interview Hajir Hajji
Appearances matter
16.45
Talk Hendrikje Crebolder and Jane Turner
Get rid of your limiting beliefs
17.05
Interview Khadija Arib
Perception matters
17.25
Music by Ntjam Rosie and Marle Thomson
17.30-18.30
Drinks
.
It is going to be an inspiring day, full of new connections, ideas and insights. And there is something special we've organized for you. We have partnered with Disney who will be hosting a special screening of their new film Captain Marvel. Yes, a film about female empowerment and with a female superhero! The film stars Brie Larson and Samuel L. Jackson.
The film screening will take place immediately after our International Women's Day Summit right next door at De Filmhallen in Amsterdam. If you buy a ticket to the summit you will also receive an invitation to this free special screening of the film! The Disney program will be from 19.00-21.45 hours.
So join us for this incredible day full of female role-models and new sisters for you to meet!
.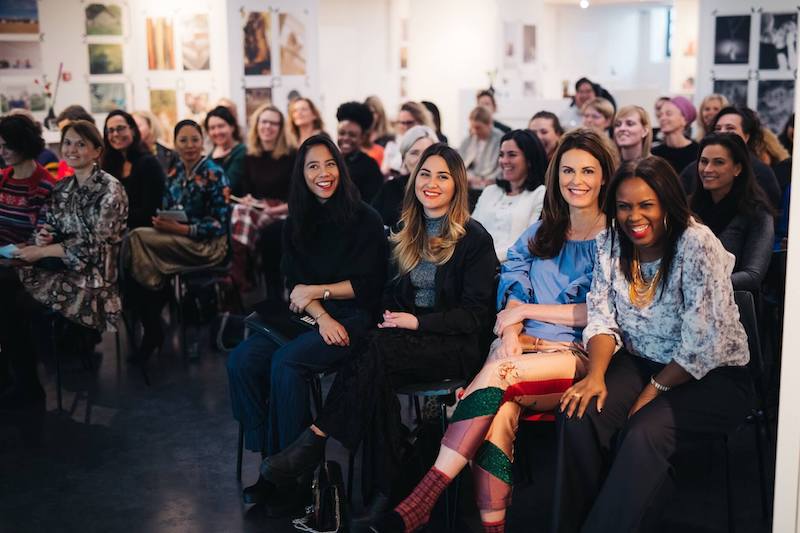 Cancellation policy
Participants may cancel their registration without penalty up until 7 days prior to the event. Cancellations received less than 7 days before an event will incur a 30% administration fee. Cancellations received the day before, the day of, or after an event will not be eligible for a refund.
Photocredits Photo Khadija Arib: Wendelien Daan