Hi,
How have you been? What a week I have had. I held Personal Branding Masterclasses at Rabobank, Allen & Overy and Modefabriek in RAI. By the start of this week I was really knackered (British slang for tired ;-))
Tomorrow I am going to London Baby! Going to the city that has defined my life and was the inspiration for BrandedU. Did I tell you I moved to London for a few years back in 2003? When I arrived there I was so used to always being the ethnic minority that the diverse cultures within the record company I was going to work for almost shocked me. Not only was there diversity in culture but also in gender. I loved it!
There was no excuse not to excel. Because there were enough real models, as I learned from Dr Yvonne Thompson, to learn from.
"London calling to the imitation zone
Forget it, brother, you can go it alone"
The Clash sang this back in 1979. It was taken from the same titled album. That album is a post-punk record that incorporates a range of styles, including Punk, Reggae, Rockabilly, SKA, New Orleans R&B, Pop, Lounge jazz, and Hard Rock. So talk about Diversity right? And on the album the subjects included social displacement, unemployment and racial conflict. Same stuff we are still discussing now.
So has nothing changed? I believe things have changed. We are much more aware of the consequences of our actions. And more and more people are realizing that Diversity Matters.
The benefits of diversity and inclusion are:
Improving financial performance
Leveraging talent
Reflecting the marketplace and building reputation
Increasing innovation and group performance
Like Maya Angelou said: "I did then what I knew how to do. Now that I know better, I do better."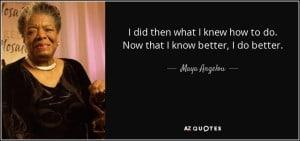 So, let's do better. We can become better. We can improve our skills. We can focus on what we really want. And we can definitely reach our goals.
2 years ago I started the BrandedU seminars. Back then I thought that was the scariest thing to do.
1 year ago I started writing a newsletter. Back then I thought that was the scariest thing to do.
6 months ago I started the BrandedU e-learning program. Back then I thought that was the scariest thing to do.
This year it is all about Blended Learning.
Blended learning – means combining face-to-face sessions with online work and forums – is one of the fastest-growing trends in education. I love innovation and I love learning new things. But still I find it really intimidating. It is out of my comfort zone but by now I know: this is where the real magic happens.
So will you learn and grow with me?
And please tell me, what scares you the most?
Let me help you. Like others have helped me.
Now I am off to London. Follow me on Twitter and Facebook for all the lovely new things I will discover there.
XOXO
Nancy
PS don't forget to sign up here for our Presenting Comfortably Masterclass
And monday is the final day to our BrandedU e-course discount. For only 75 euro's a month you can start working on your personal brand.
https://brandedu.nl/wp-content/uploads/2018/08/brandedu.png
0
0
Nancy Poleon
https://brandedu.nl/wp-content/uploads/2018/08/brandedu.png
Nancy Poleon
2016-01-28 17:51:51
2016-01-28 17:51:51
London Calling!