This is a vital career strategy
We had an inspiring "Men as advocates" event on Monday. What I know is that there are plenty of men out there who want to change the status quo but it all comes down to having the power to change things and if we (men and women) are willing to have the difficult conversations. We need to find new and innovative ways to deal with the underrepresentation of women in leadership roles.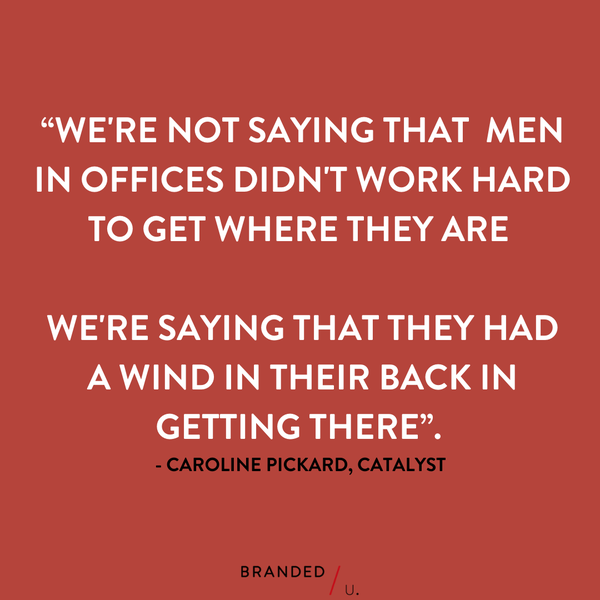 One thing is certain: Sis, the experience you have isn't different from men, your capabilities aren't different nor is it about your knowledge. It's about your VISIBILITY and your PERSONAL BRANDING.
But don't just go for visibility without answering some of the most critical questions. Otherwise you might be visible for what you don't want to be known for. You don't really need to make every single aspect of yourself visible. First you'll need to think about where you stand right now and where you really want to go in your career. This process is about growth and taking the time to figure out who you are. You will know when the time has come to move further in your career and be more successful.
In the end BrandedU's greatest achievement is helping women become more self-aware and get more self-confident so they can become more successful in their careers. Ideally make it to the top of their fields. Ideally to lead to empower others. And why? Because we need the perspectives of women and study after study show that women are good for business.
So, are you ready to take action and find out what you're really made of? Are you ready to uncover the treasures within you, because sis they are there! It's up to you to have the self-confidence to show them what you've got. And we've got you.
How great would it be if we could live in a gender gap-free workplace, where there is equal women's representation in executive leadership and pipeline?
That's why we're inviting you to join our FREE personal branding masterclass on the 8th of June and get the 5 GOLDEN personal branding rules for your career to set yourself up for success.
If you're ready to become more visible or take the next step in your career, then sign up now!
Nancy

https://brandedu.nl/wp-content/uploads/2021/05/this-is-a-vital-career-strategy.png
600
600
Rosanne
https://brandedu.nl/wp-content/uploads/2018/08/brandedu.png
Rosanne
2021-05-10 16:27:00
2022-07-13 08:55:46
This is a vital career strategy