"That's why you need, oh that's why
This is what you need, I'll give you what you need"
Remember INXS?
Girllll…. I use to have a huge crush on Michael Hutchence…… I was listening to this song and got inspired because it reminded me of how grateful I am to live in a country where I can decide what I need for myself.
"Hey you, won't you listen?
This is not the end of it all
Don't you see it's is a rhythm
I'll take you where you really need to beI'll take you,
I'll take you where you want to be
That's right, I'll take you
wanted to let you in on something before it ends… so here it goes."
So on Tuesday, May 23rd I will be launching the 3rd edition of the BrandedU e-course Face to Face, a 4 weekly personal branding workshop personally guided by me. I'm really proud of this e-course. It's my own method based on what I learned over the past 20 years in artist branding.
This E-course is a real confidence builder and ladies you get 100% focused on what you really really want out of your career. But hey don't just take my word for it. Here are a couple of words from the women who have been able to benefit from it so far.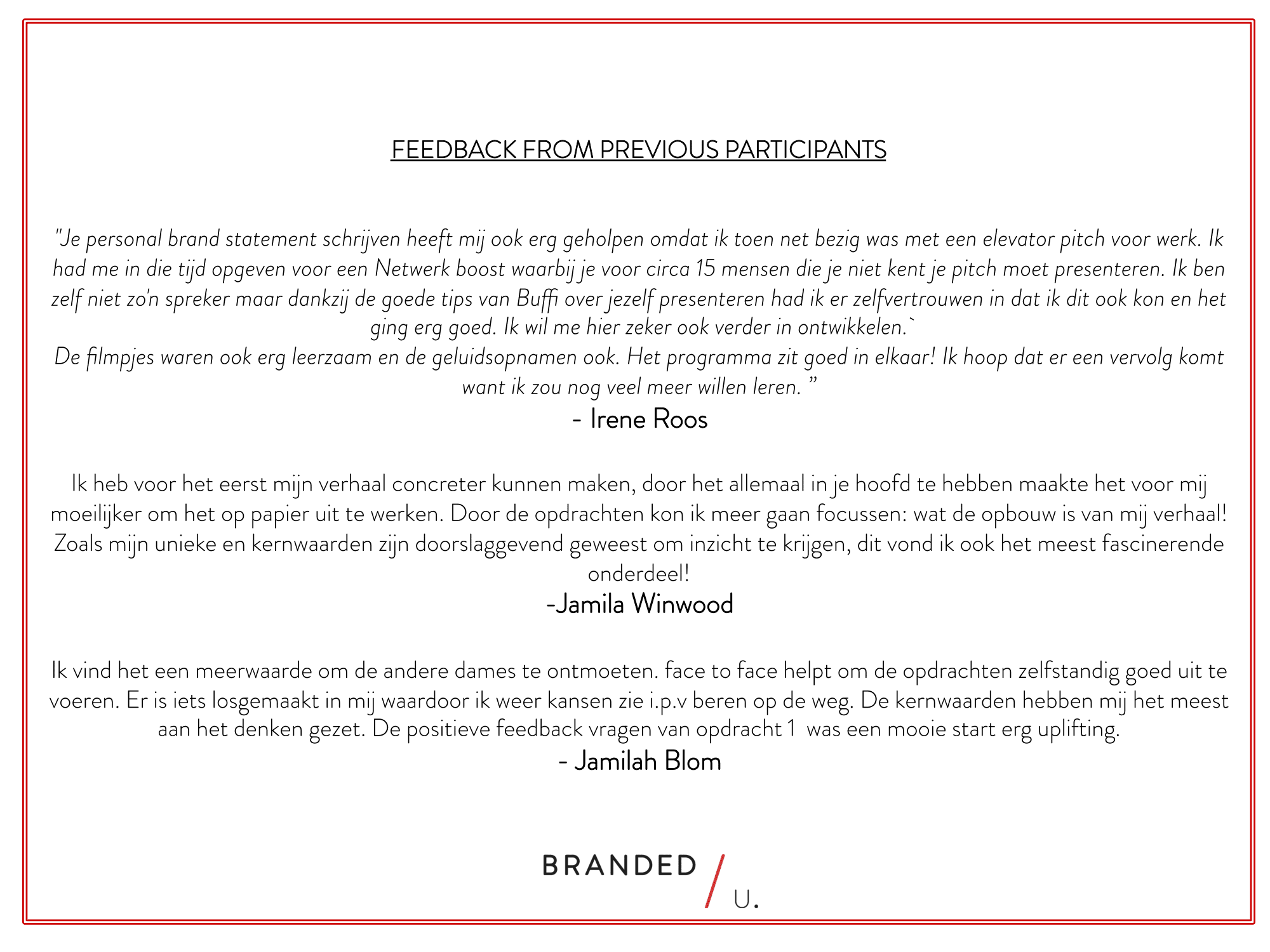 And we have a special Early Bird price of €750 (this is a €250 discount) that ends this Monday the 1st of may!
So that's the good news. The bad news is that unfortunately, it is only available in dutch (hence the dutch reviews). But I promise by the end of this year I will produce an English version.
Since it is Kingsday in The Netherlands today, I want to end this newsletter with a quote from our King about the lessons he wants to teach his daughter: "I tell Amalia all the time, that to be of public service you have to know yourself". This to me is the most valuable lesson in life and what I teach with my method of personal branding.
So tell me girl, are you in?
If you have any questions, please send me an e-mail! I hope to see you in May.
Let's do this!
XN
https://brandedu.nl/wp-content/uploads/2018/08/brandedu.png
0
0
Nancy Poleon
https://brandedu.nl/wp-content/uploads/2018/08/brandedu.png
Nancy Poleon
2017-04-25 08:41:29
2022-07-13 08:55:55
What you need