"Let's spend the night together
Now I need you more than ever
Let's spend the night together now"
Let's spend the night together

How was your first week at work?
I have already had my first event of the year and one thing stood out: Women are looking for likeminded women. Which is good. I am happy women are going to events to meet one another. Because you need your sisters! 
I can't keep saying this enough. So let's spend some time together! But please let me give you my top 5 reasons again for organizing Networking events like the one The Harper's Bazaar Network Academy I.c.w. BrandedU is holding on the 20th of January.
It helps you to develop as a person, as you know we make role models visible so you can learn from their stories
You will be more visible to likeminded people
You can create ambassadors who will tell about you and connect you with people you might be interested in
You have to step out of your comfort zone and enter introduce yourself
You get new ideas, new insights and a different perspective on things
So if you want to join us register here!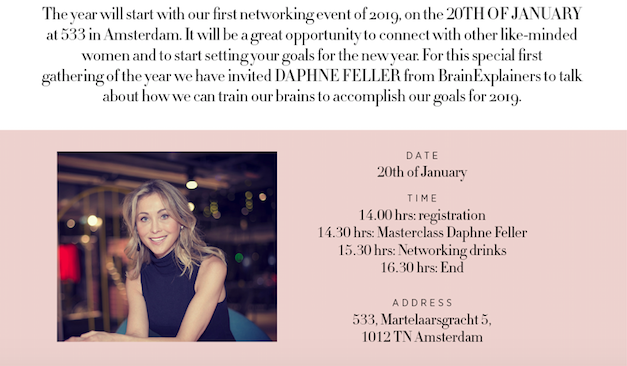 And there is more. Yes I want to spend more time with you! Are you FREE Monday the 21st of January?
Join me this Sunday at the FREE BrandedU infoday!
Do you want to take real steps to reach the next level in your career ? If you don't know where to start, how to approach your goal or which steps you need to take to achieve your goals, we can only give you one piece of advise: Come to the FREE Personal Branding Info day on January the 21st in Amsterdam. Register here!
See you there! XOXO, Nancy
https://brandedu.nl/wp-content/uploads/2019/01/daphne-feller_2018_closeup.png
1108
1280
Nancy Poleon
https://brandedu.nl/wp-content/uploads/2018/08/brandedu.png
Nancy Poleon
2019-01-10 13:45:37
2022-07-13 08:55:48
Let's spend the night together